Sales leaders use TIPMed to support training initiatives, on-site team management, and as a resource to share important information with the people who need to see it.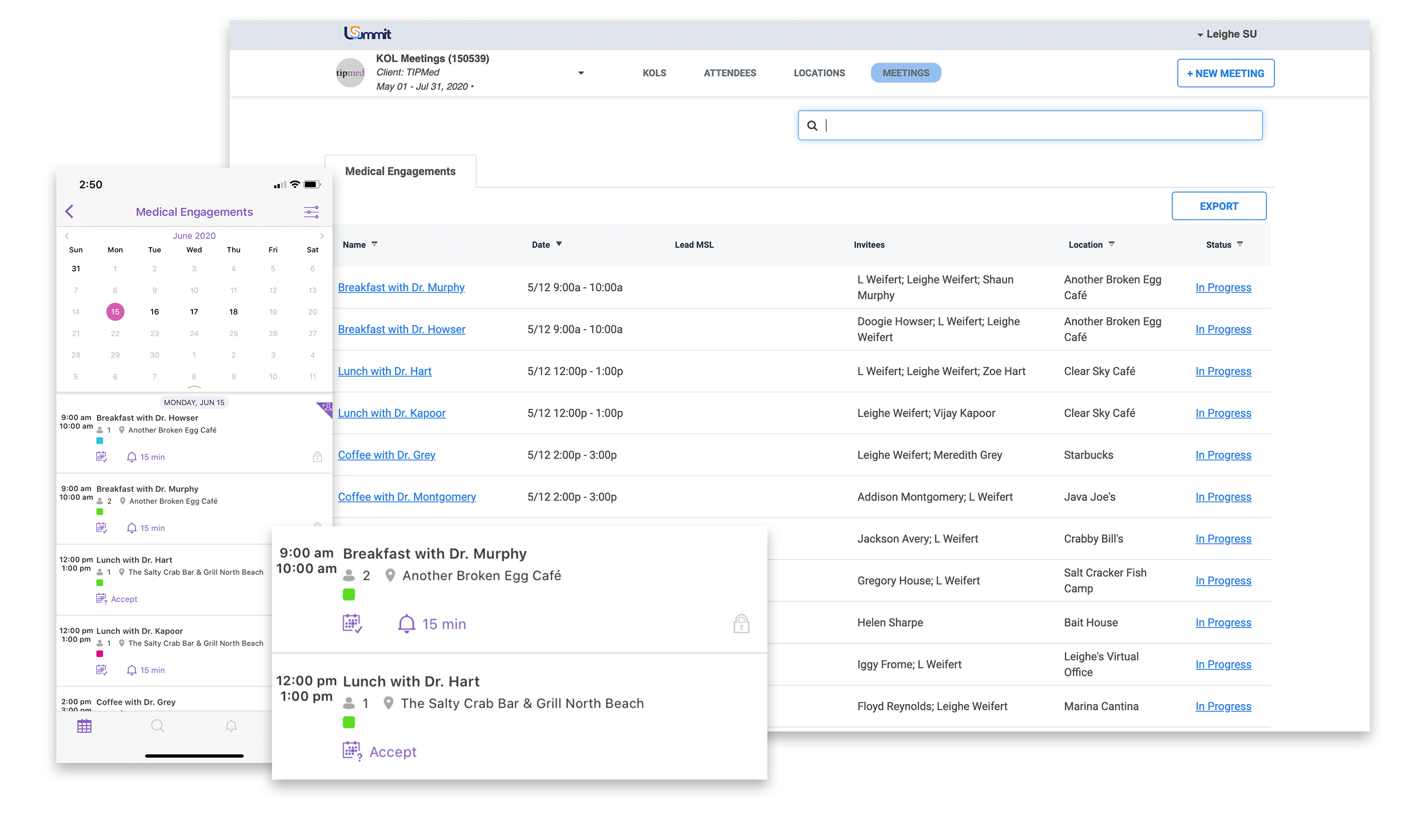 Through TIPMed's ENGAGE portal, sales reps can view the latest profiles and information about HCPs they are working with. Having this up-to-date information provides them with insights and talking points that help them understand and better engage their audience.
HCPs can be a tough crowd. The best tool sales teams can have at their disposal is access to up- to-date information that they can deliver in a customized fashion based on the interests and desires of an individual HCP. It sure beats bombarding them with canned presentations offering data they've already seen.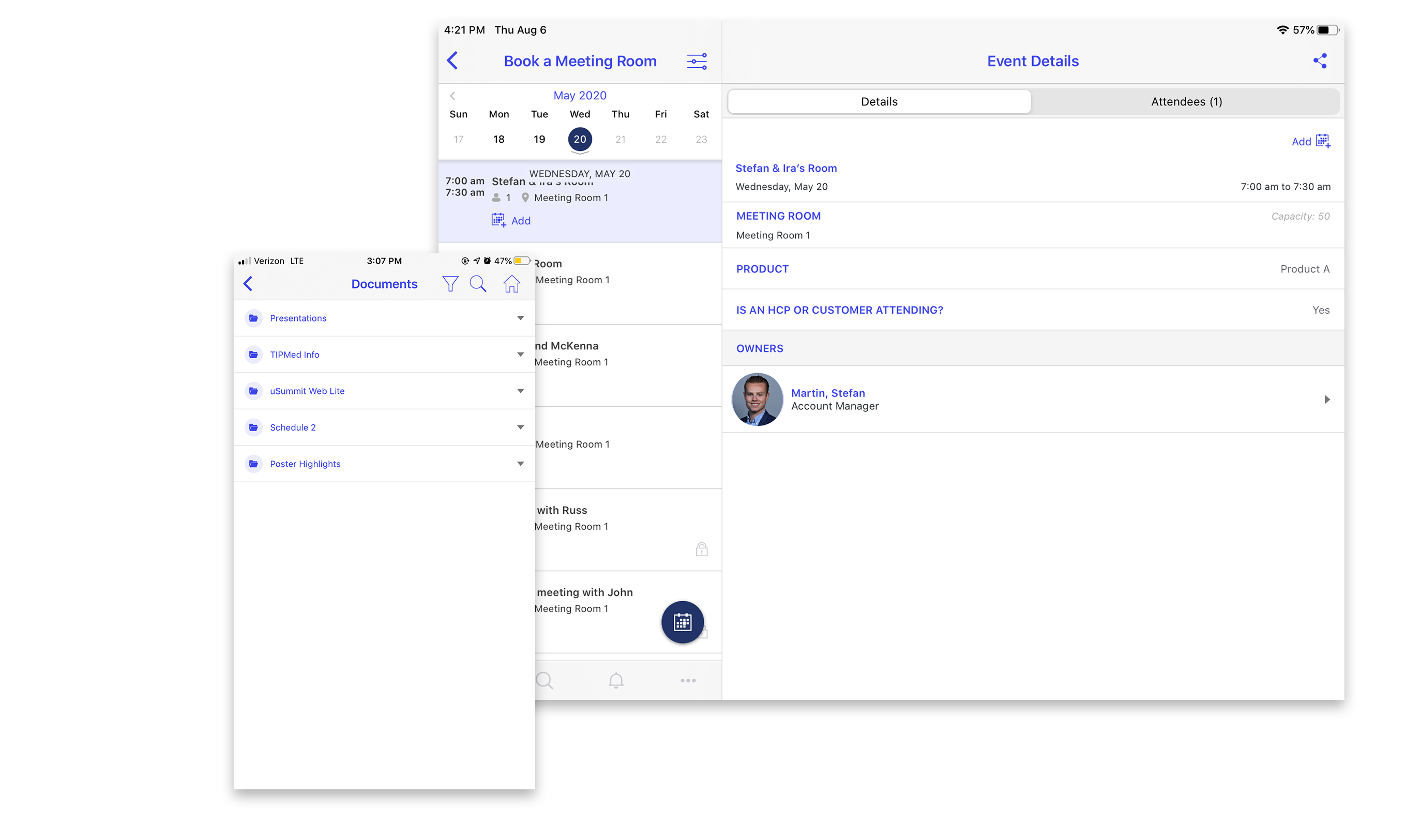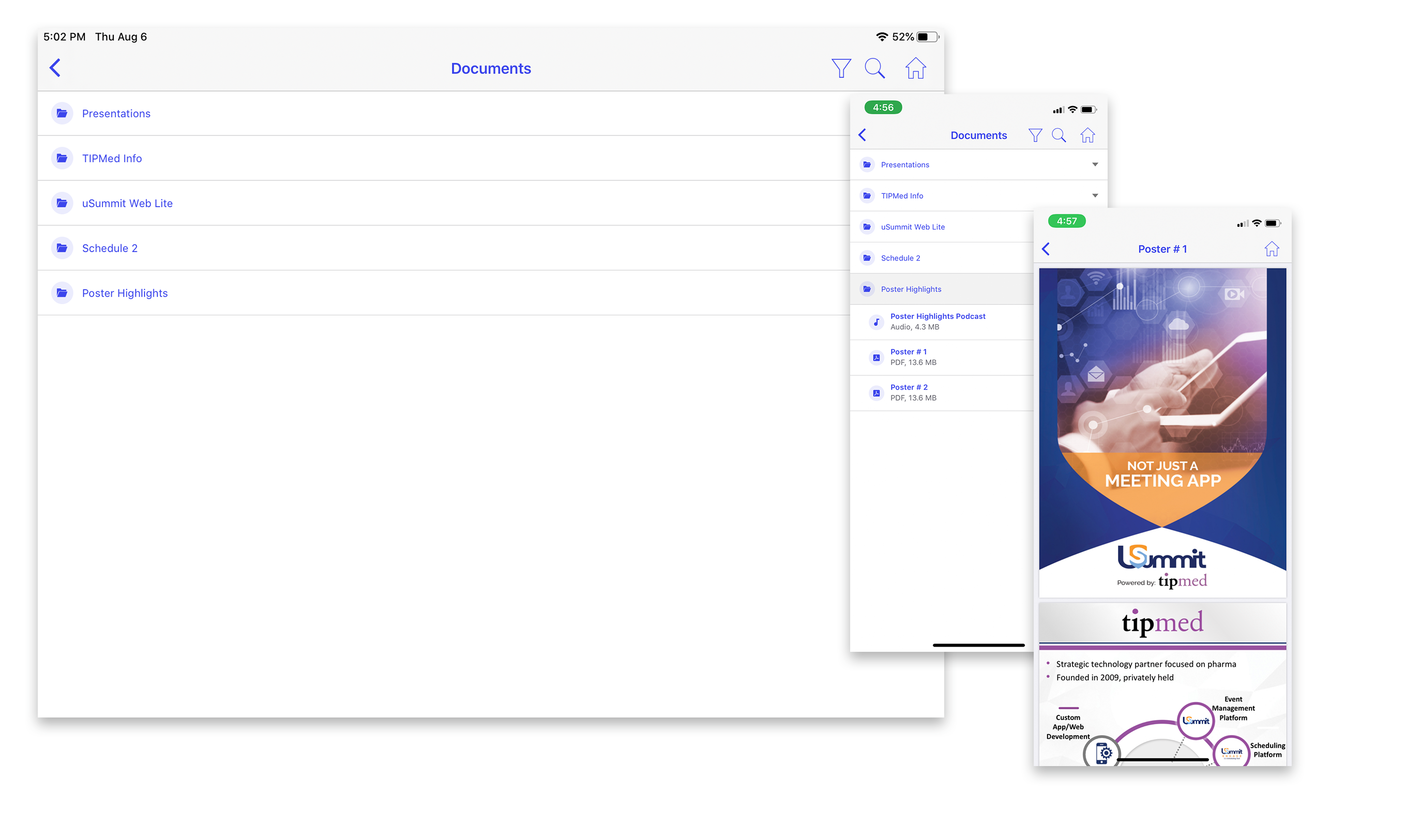 easy access to shareable results
TIPMed houses all materials, giving sales reps. 24/7/365 access to view, download, and share up-to-date results, insights, and other impactful data that can help them educate, connect, and convert.
Solutions in Action
The pharma industry uses our solutions
Virtual/Hybrid Meeting
Manager, Competitive Intelligence
Situation:
"Due to recent events, congresses have decided to go virtual, but that hasn't stopped us from needing to attend. In this new virtual world, we need a platform that integrates the latest information provided by the congress virtually while allowing us to otherwise customize and build it based on other priorities and needs. Our MSLs need to be able to easily and efficiently gather insights on specific abstracts, just as they would at a live conference review post-congress."
TIPMed Solutions:
Full schedule of all virtual events with assigned coverage
Enabled collection of valuable insights on key abstracts through Notes Module, including pre-loaded questions, photos, videos, and tags
In-app chats that allowed team members to stay connected remotely
Sales Training
Director, Global Marketing
Situation:
"One of the top priorities for our National Sales Meeting was to train our sales force in as efficient and engaging a manner as possible. To that end, we were seeking innovative, remote technology that would allow us to continue training the sales team after in-person sessions ended. The solution also needed to include some sort of feedback mechanism, as this component was essential for leadership to meet their team's needs."  
TIPMed Solutions:
Organized sales team during National Sales Meeting with a master event schedule Engaged team members with quizzes, polls and surveys
Created a library of Sales resources including videos organized by therapeutic area and indication
Internal Meeting
Associate Director, Meeting & Event Management
Situation:
"Every year we have our POA meeting, which sometimes, sees upwards of 1,000+ attendees—that is A LOT of schedules to manage! Some meetings where have multiple teams attending, and then those teams break down further into assigned workshops and breakouts. We need everyone to see their schedule so they know where they're going. We were also looking to make these meetings more interactive for our attendees."
TIPMed Solutions:
Simplified complex schedule with over 1,000 individual sessions and breakouts
Custom scavenger hunt to encourage user engagement
Push notifications to drive interaction and highlight important app content
Team Management
Vice President, Market Access
Situation:
"We needed a space where colleagues could view and share important internal and external events, and connect with one another at their leisure. Because we have a handful of teams, we also needed a platform everyone could access but that allowed for private inter-team communication. In other words, we wanted to keep everyone connected without the need for outside management. We've used other material housing websites that seem to never work, or are just too difficult to manage."  
TIPMed Solutions:
Created hub to house team schedules, personal agendas, and important resources
Engaged team members with live announcements, chat, polls, surveys, and push notifications
Enabled permission- based content for use by multiple teams in one app
Challenge Us
Have an idea for something we haven't mentioned or a question about how our app can work for you? Just reach out! Our team of specialists leaves no stone unturned when it comes to developing creative solutions for each unique situation, and sometimes the best ideas come from our clients. In fact: the majority of our development pipeline stems from client feedback and ideas. That collaborative spirit is part of what we attribute our coveted 97% client retention rate to. But you don't need to take our word for it—just have a look through our list of customer testimonials and success stories! Hopefully, you'll be able to add to that list.