Everything you need in a technology partner
Your Digital
Pharma Partner
At TIPMed, we're known for producing creative, bold ideas that result in innovative, effective solutions for our clients.
Our Services
Experience-Driven pharma communication technology

Event App
Fueled by years of experience and passion, uSummit is a pharma-specific platform that provides unrivaled meeting and event app management.

KOL Management
We created our advanced, interactive KOLRMS database in order to facilitate real-time KOL management through direct outreach and data management.

Podcast Development
Bring your podcasting idea to life, from creating your platform, to recording and scrubbing your recordings.

Event Management
We're proud to provide our clients with laser-focused solutions for any event, anywhere. Our goal is to help you execute a successful event that we'll manage, from kick-off, to post meeting debrief.

Team Management
A communication tool that houses everything a team needs in one place, for year-round communication, including schedules & events, materials, interactivity options, and more.

Custom Development
Front-end, backend, database and server solutions for mobile apps, web applications & desktop, led by our expert software developers.
Find the best solution for your role
Contact us to see how we can help support you.
About Us
Making things easier for pharma professionals since 2009
TIP Medical Communications, Inc. (TIPMed) is a technology partner focused on providing fresh solutions to pharma clients. Within the healthcare space, we are the go-to experts in creating solutions powered by years of experience, passion, and ideas that drive digital innovation forward. Technology and healthcare are our passions.
White Glove Support
We strive to ensure our clients feel confident and taken care of every step of the way.
Best Solutions
We have a solid track record of providing our clients with solutions that work for them.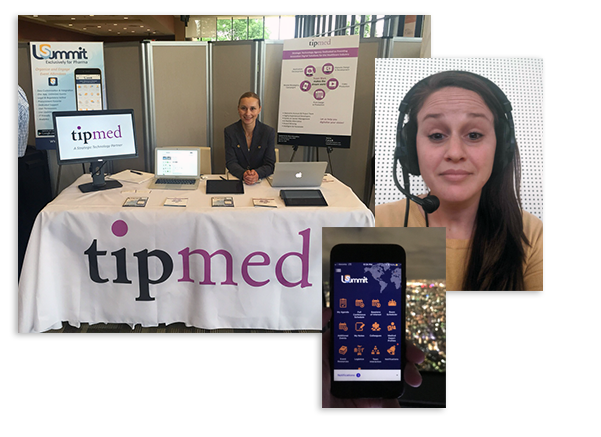 Solutions in Action
The pharma industry uses our solutions
Virtual/Hybrid Meeting
Manager, Competitive Intelligence
Situation:
"Due to recent events, congresses have decided to go virtual, but that hasn't stopped us from needing to attend. In this new virtual world, we need a platform that integrates the latest information provided by the congress virtually while allowing us to otherwise customize and build it based on other priorities and needs. Our MSLs need to be able to easily and efficiently gather insights on specific abstracts, just as they would at a live conference review post-congress."
TIPMed Solutions:
Full schedule of all virtual events with assigned coverage
Enabled collection of valuable insights on key abstracts through Notes Module, including pre-loaded questions, photos, videos, and tags
In-app chats that allowed team members to stay connected remotely
Internal Meeting
Associate Director, Meeting & Event Management
Situation:
"Every year we have our POA meeting, which sometimes, sees upwards of 1,000+ attendees—that is A LOT of schedules to manage! Some meetings where have multiple teams attending, and then those teams break down further into assigned workshops and breakouts. We need everyone to see their schedule so they know where they're going. We were also looking to make these meetings more interactive for our attendees."
TIPMed Solutions:
Simplified complex schedule with over 1,000 individual sessions and breakouts
Custom scavenger hunt to encourage user engagement
Push notifications to drive interaction and highlight important app content
Team Management
Vice President, Market Access
Situation:
"We needed a space where colleagues could view and share important internal and external events, and connect with one another at their leisure. Because we have a handful of teams, we also needed a platform everyone could access but that allowed for private inter-team communication. In other words, we wanted to keep everyone connected without the need for outside management. We've used other material housing websites that seem to never work, or are just too difficult to manage."  
TIPMed Solutions:
Created hub to house team schedules, personal agendas, and important resources
Engaged team members with live announcements, chat, polls, surveys, and push notifications
Enabled permission- based content for use by multiple teams in one app
Book a Meeting Space
Agency Partner
Situation:
"Simply put, we wanted to allow our meeting attendees to have total autonomy to book a meeting space. As meeting planners, we have so much that requires our attention during an event, and managing room availability and booking can be an all-consuming task. There's specific information we need to capture, though, so ideally we wanted to be able to monitor availability without having to manage it. That said, with specific teams needing access to specific rooms, and some team leads still preferring to control their space, we also needed to provide them with the ability to monitor their rooms. Additionally, because meeting space can be hard to come by at these large meetings, we wanted to make sure our rooms are being utilized for the highest priority meetings." 
TIPMed Solutions:
Enabled attendees to reserve, move, or cancel available time slot(s) for meetings in a specific room with all required information
Empowered attendees to invite other attendees to meetings
Built in option for meeting managers to moderate meeting room requests from attendees
New Hire
Human Resources Specialist
Situation:
"Getting a new group of colleagues can be exciting, but getting them set up with the various technology they'll need is often time-consuming, sometimes even nerve- wracking. We wanted a platform that not only welcomes new members to the team, but helps them to easily access new materials and schedules they might need during their introductory period, and participate in group discussions. Ultimately, we wanted to incorporate an element of "fun" into our space, as well as, give them—and us— a little break during the busy new hire experience."
TIPMed Solutions:
Personalized training schedules with links for virtual/hybrid meetings
Access to all relevant company materials
Interactive capabilities with new colleague through chats and quizzes
KOL Management
Conventions Manager
Situation:
"So much of our job revolves around managing and meeting with KOLs/HCPs, and taking back information we've gathered from our meeting. We needed a platform where we could not only view our entire team's scheduled 1:1 engagements, but one which provided us with assistance in scheduling them, as well, from both company laptops and mobile devices.
Furthermore, when interacting with different KOLs/HCPs across multiple functions and regions, keeping track of their credentials, our interactions with them, and notes from each engagement has become challenging. Specifically, balancing Excel spreadsheets with KOL/HCP information leads to difficulty with version control and ensuring that the data is up to date."
TIPMed Solutions:
Management of KOL/HCP profiles used at events to track interactions and meetings
Ability to Invite/schedule/manage 1:1 Engagement with KOLs/HCPs prior to an event
KOL/HPC profiles and scheduled events viewable while on-site
Challenge Us
Have an idea for something we haven't mentioned or a question about how our app can work for you? Just reach out! Our team of specialists leaves no stone unturned when it comes to developing creative solutions for each unique situation, and sometimes the best ideas come from our clients. In fact: the majority of our development pipeline stems from client feedback and ideas. That collaborative spirit is part of what we attribute our coveted 97% client retention rate to. But you don't need to take our word for it—just have a look through our list of customer testimonials and success stories! Hopefully, you'll be able to add to that list.