Event Planners use TIPMed to improve the attendee experience and collect results within a centralized platform.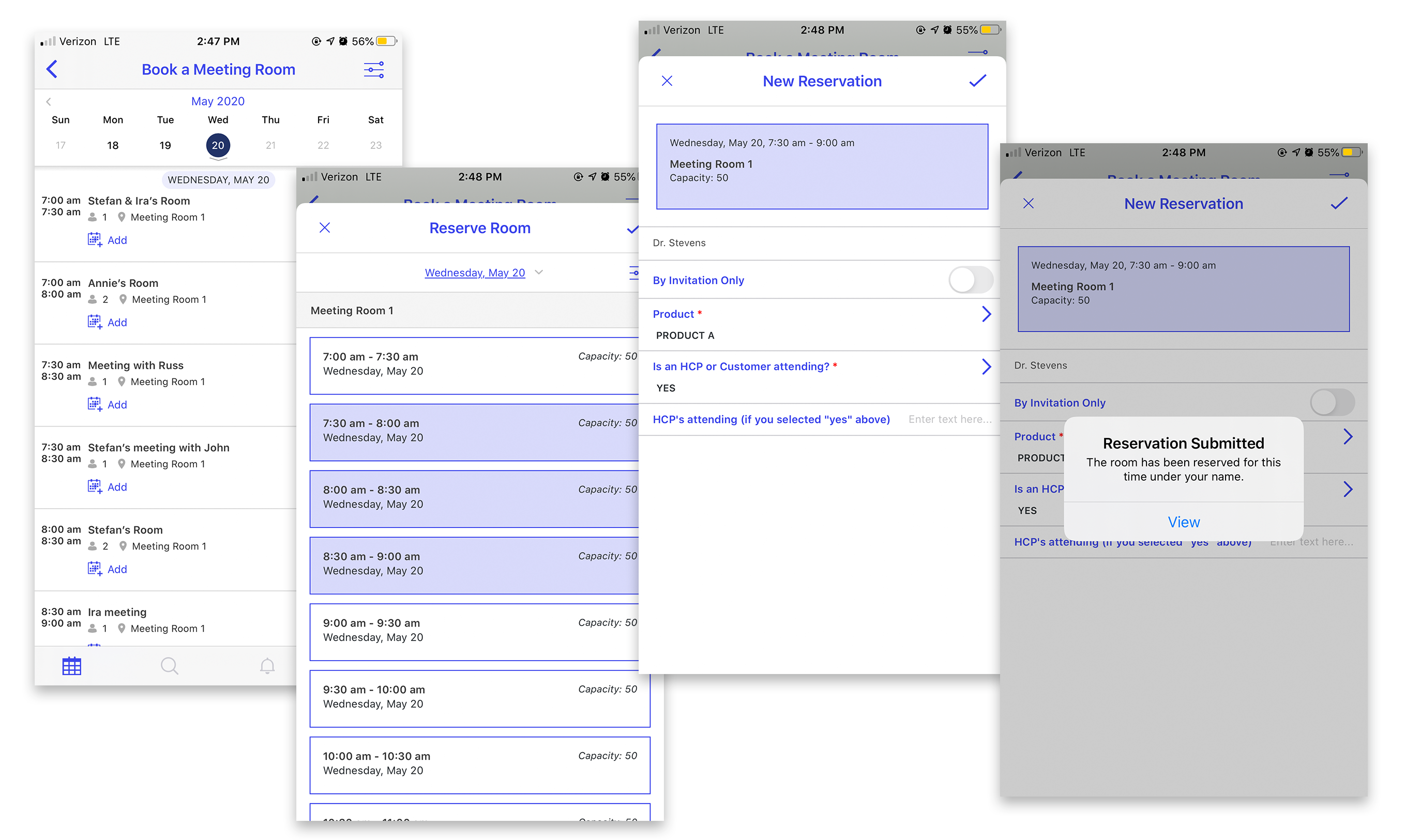 Attendee engagement tools
Your event, less management
With uSummit, users can book their own meeting rooms, access key insights, and chat with their team. Event planners can still monitor all activity, but enjoy the freedom to focus their attention where it's most needed.
Immediate Event Results Analytics
Evaluate meeting space ROI with detailed analytics on meeting room bookings and app usage.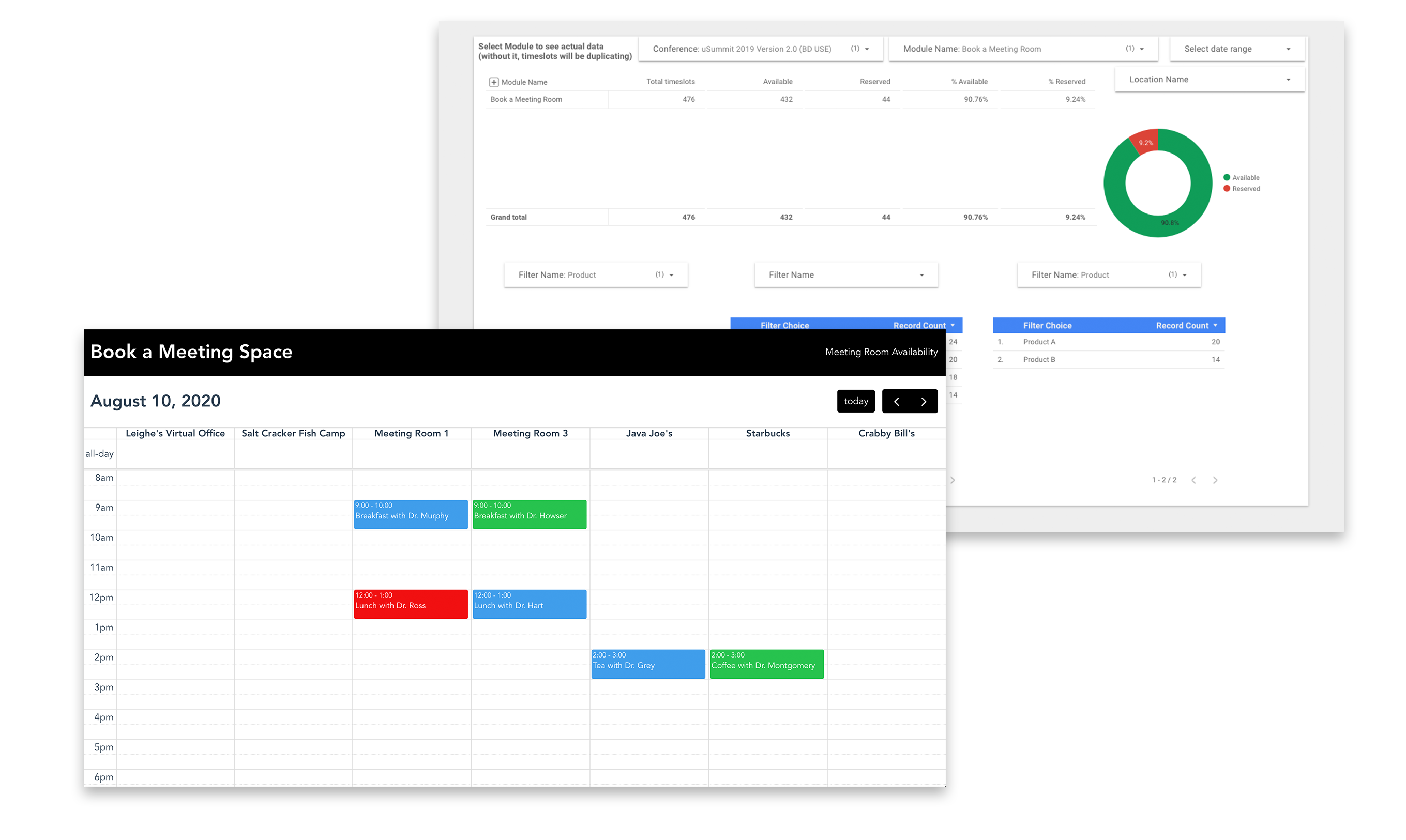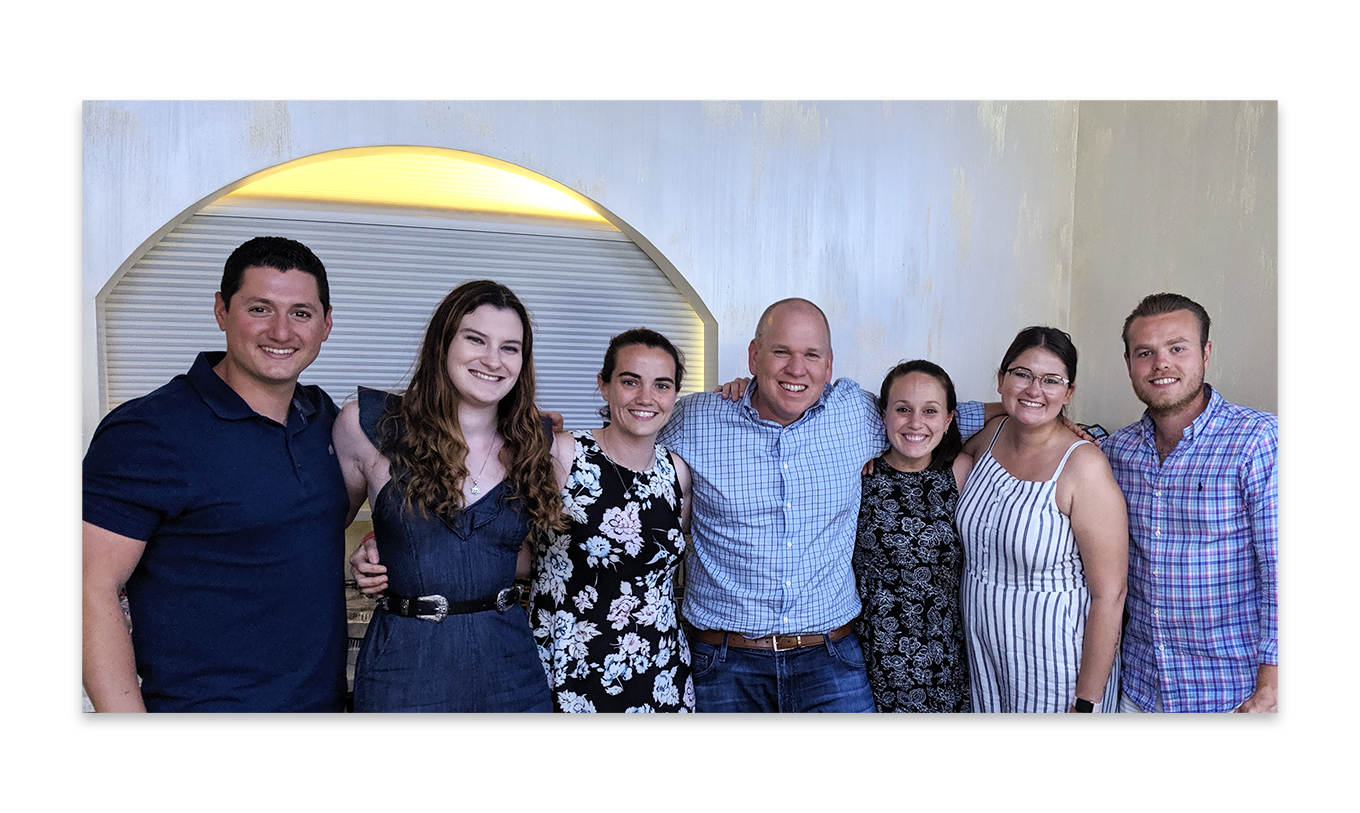 Expert Project Management
We help manage meetings from start to finish with our incomparable white glove service. Our expert project management team is here to help build, populate, update, and oversee your app. We can do this remotely or right by your side on-site. Either way we're next to you every step of the way.
Solutions in Action
The pharma industry uses our solutions
Virtual/Hybrid Meeting
Manager, Competitive Intelligence
Situation:
"Due to recent events, congresses have decided to go virtual, but that hasn't stopped us from needing to attend. In this new virtual world, we need a platform that integrates the latest information provided by the congress virtually while allowing us to otherwise customize and build it based on other priorities and needs. Our MSLs need to be able to easily and efficiently gather insights on specific abstracts, just as they would at a live conference review post-congress."
TIPMed Solutions:
Full schedule of all virtual events with assigned coverage
Enabled collection of valuable insights on key abstracts through Notes Module, including pre-loaded questions, photos, videos, and tags
In-app chats that allowed team members to stay connected remotely
Congress
Meetings & Conventions Planner
Situation:
"We need a place to house multi-track agendas, manage schedules, allow attendees to interact during presentations, and track insight reporting. We also need our teams to be able to stay connected while on-site at meetings, as well as review and follow up on materials- post-event. Additionally, it would be helpful to be able to manage meeting rooms, room bookings, engagements, and travel logistics."
TIPMed Solutions:
Created hub to house team schedules, personal agendas, and important resources
Allowed users to schedule 1:1 meetings and book meeting rooms through uSummit app
Enabled team members to stay connected with in-app chat
Notes module enabled users to collect valuable insights on key abstracts with notes, photos, videos, and more
Book a Meeting Space
Agency Partner
Situation:
"Simply put, we wanted to allow our meeting attendees to have total autonomy to book a meeting space. As meeting planners, we have so much that requires our attention during an event, and managing room availability and booking can be an all-consuming task. There's specific information we need to capture, though, so ideally we wanted to be able to monitor availability without having to manage it. That said, with specific teams needing access to specific rooms, and some team leads still preferring to control their space, we also needed to provide them with the ability to monitor their rooms. Additionally, because meeting space can be hard to come by at these large meetings, we wanted to make sure our rooms are being utilized for the highest priority meetings." 
TIPMed Solutions:
Enabled attendees to reserve, move, or cancel available time slot(s) for meetings in a specific room with all required information
Empowered attendees to invite other attendees to meetings
Built in option for meeting managers to moderate meeting room requests from attendees
Internal Meeting
Associate Director, Meeting & Event Management
Situation:
"Every year we have our POA meeting, which sometimes, sees upwards of 1,000+ attendees—that is A LOT of schedules to manage! Some meetings where have multiple teams attending, and then those teams break down further into assigned workshops and breakouts. We need everyone to see their schedule so they know where they're going. We were also looking to make these meetings more interactive for our attendees."
TIPMed Solutions:
Simplified complex schedule with over 1,000 individual sessions and breakouts
Custom scavenger hunt to encourage user engagement
Push notifications to drive interaction and highlight important app content
Speaker Trainings
Senior Project Manager
Situation:
"For a meeting where our speakers were being educated on current product slide decks, we were in need of a platform that could house our schedule, speaker profiles, presentations and other documents while also facilitating seamless internal communication and access to all the information provided during the meeting."
TIPMed Solutions:
Published full schedule of all Speaker Training sessions
Provided participants with access to all relevant training materials
Configured in-app chats, polling, and surveys to permit and encourage attendee communication and engagement
Registration & Badge Scanning
Senior Congress Planner
Situation:
"Registration is an integral aspect of successful meeting planning; the easier it is for the logistics team to coordinate, the more successful the start of the event is, which helps get everything on the right track. Most of the time, we use an outside vendor for registration needs, but as the number of meetings grew, this solution was becoming increasingly expensive. We were also using different vendors for registration, meeting logistics, and badge printing, which was resulting in a costly and convoluted registration process for our planners and attendees. We needed to streamline and save."
TIPMed Solutions:
Streamlined registration process with the uSummit app's comprehensive Attendee Profile feature
Provided on-site badge printing capabilities
Enabled attendee tracking via registration reports
Challenge Us
Have an idea for something we haven't mentioned or a question about how our app can work for you? Just reach out! Our team of specialists leaves no stone unturned when it comes to developing creative solutions for each unique situation, and sometimes the best ideas come from our clients. In fact: the majority of our development pipeline stems from client feedback and ideas. That collaborative spirit is part of what we attribute our coveted 97% client retention rate to. But you don't need to take our word for it—just have a look through our list of customer testimonials and success stories! Hopefully, you'll be able to add to that list.